Keyword research is probably the most crucial aspect of your website's search engine ranking. Any step you undertake to boost your SEO score needs to be based on proper keyword research; otherwise, the results will not be satisfactory. Let's take a look at the best ways to start working on your website's keyword research, a key aspect when planning to improve your SEO rankings.
Google Suggest
The first step is not focused on specific keywords but on broad topics. You have to figure out which topics are interesting for the people that will visit your website. Make a list of 10-15 general topics related to real estate and write them down. Next, head over to Google and type the topics from your list in the search bar to see what the search engine suggests.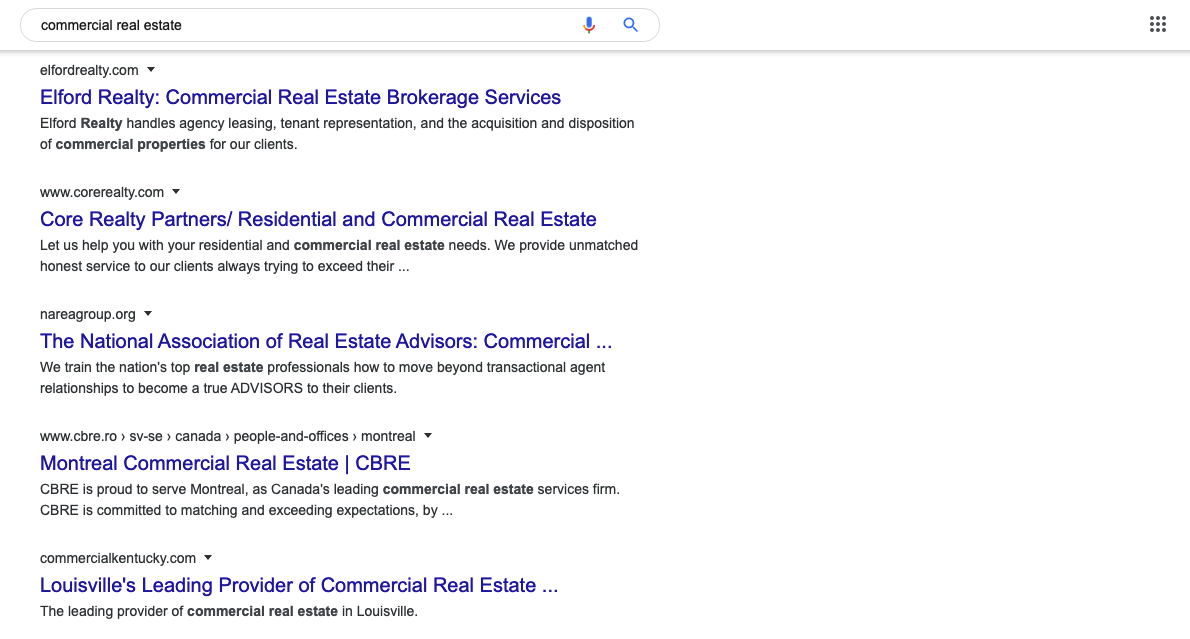 This way, you will be able to find different real estate keywords related to your broad topics – remember that the auto-suggest will display keywords with lots of monthly searches first, and then go down to the least popular ones.
After checking the suggested searches in Google, you can also take a peek at the related searches from the bottom of the page. You can use other platforms such as YouTube or search engines such as Bing to find even more keywords for your website.
Lower Competition
If the website you're working on is relatively new and doesn't have a high SEO score, you don't want to target highly competitive real estate keywords. SEO best practices recommend targeting long-tail keywords, which are often less competitive.
Long-tail keywords are contextually related words that are more specific compared to general keyword searches. These keywords can be divided into three sections, namely the head, the body, and the long tail.
For example, "real estate" is a keyword head. The body can be "seaside," as in "seaside real estate." The long tail can be a geographic designation such as "in California." The long-tail keyword, in this case, is "seaside real estate in California" – this is more specific than just "real estate," hence the lower competition.
User Intent
Users searching for keywords related to the real estate industry fall into two main categories: those that are looking to buy and the ones that are just interested in reading a few articles for various reasons. Ideally, you will want to target both categories of potential visitors, since the second category could become a customer once they are done going through the "research phase" of their purchase.
That being said, the "buyers category" is the one that you should focus on more between the two. This means you should optimize your content for keywords that imply "commercial intent," e.g., the decision to purchase a home as well as a service that your website provides.
Another way of finding out if a keyword has high commercial value is through AdWords. You can check and see how many people have ads running for your chosen keyword. A high amount of ads for a particular keyword generally means it has a high value, but it also means that it's highly competitive. Companies are outbidding each other over potential clients.
Google Trends
Let's say that by now, you have a few high keywords for your website, but two of them seem equally good, and you can't decide which one to go on. This is where Google Trends steps in. This is an excellent tool that helps you observe if a keyword is likely to grow in popularity or shrink over time.
Keywords can be tricky sometimes – they can have a very high search volume one month and down to zero in the next. This is the main reason why you should use Google Trends – if your keyword is likely to become more popular, definitely go with it. At the same time, you can use Google Trends to search for new keywords or see which properties are more desirable.
Real Estate Keyword Tools
The last and probably most effective way to get better keywords for your real estate website is using a keyword tool that will give you all the information you need, including search volume as well as competition. Some of the best keyword tools available on the market today include SemRush.com,  KwFinder.com or app.wordstream.com
Both of these platforms will provide you with correct and valuable data for your keyword research, but unfortunately, these tools are not free. In essence, you can only test them for a certain period before committing to a monthly plan.
Real Estate Keyword Examples
Real estate agents may spend a lot of time on their website, tweaking different features and making it more appealing, but in the end, it's high-quality content that matters. In essence, exciting content will keep your users coming back for more and make them turn into a paying customer. Let's take a look at a list of keywords to get you started with your research.
Short Tail Real Estate Keywords
Short tail real estate keywords are usually highly competitive and are not usually recommended for newer websites. In essence, you should focus on long-tail keywords first before moving on to shorter ones. Here is a list of the top real estate keywords with their monthly search volume and competition:
| | | |
| --- | --- | --- |
| Real estate  | 450.000 | high |
| Multiple Listing Service | 10.000 | Medium |
| Houses for sale | 1.000.000 | high |
| For sale by owner | 110.000 | high |
| FSBO | 27.100 | Medium |
| Commercial real estate  | 110.000 | high |
| MLS listings | 74.000 | high |
| Condo | 135.000 | high |
| Condos for sale  | 110.000 | high |
| realty | 33.000 | medium |
| For sale  | 49.500 | high |
| Buying a house  | 40.000 | medium |
| townhomes for sale | 40.500 | medium |
| homes for sale by owner | 22.200 | medium |
| foreclosure | 74.000 | high |
| houses for sale near me | 550.000 | high |
Long Tail Real Estate Keywords
Long-tail real estate keywords are more comfortable to rank for in search engines. Here is a list of examples you can use:
steps to selling a house with a realtor
how to sell your house fast by realtor
how to sell your house fast with a realtor
sell your house in 7 days
how to choose a real estate agent for selling
how to hire a realtor to sell home
Things Real Estate Agents Should Be Doing
real estate agent duties to the seller
how to get your real estate license
12 Ways the Best Real Estate Agents Their Clients
how to get clients in the real estate business
how to get real estate leads
buyer leads for real estate agents
real estate leads for new agents
best real estate lead generation 2020
exclusive real estate leads
things real estate agents need
real estate marketing plan
real estate marketing strategies examples
luxury real estate marketing ideas
marketing strategies for real estate agents
SEO tips for real estate agents
SEO examples for real estate
SEO for real estate investors
how do I attract real estate clients
real estate marketing techniques
how to lure real estate investors
how to lure real estate listings
how to draw real estate buyers
how to collect real estate commission
how do real estate brokers get paid
do real estate agents get paid hourly
do real estate agents get paid a salary
who pays the real estate agent
who pays realtor fees in California
how much do realtors cost
average realtor fees
how to be successful in real estate sales
days to successful real estate
habits of successful real estate agents
real estate agent trends
what does SEO mean in real estate
What is the best real estate search engine?
On-Page SEO for real estate?
real estate SEO keywords
best real estate SEO keywords for 2020
keywords for real estate investors
local SEO real estate agent
keywords for real estate
Conclusion
The last thing you need to keep in mind is that building content for your website is an ongoing process that requires continuous effort. The same goes for keyword research – you should keep track of your keywords and be on the lookout for new ones every month.